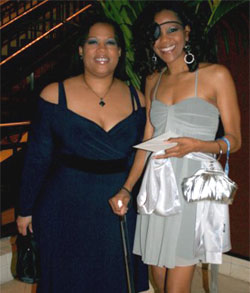 Murphy J. Hickerson
(pictured in silver dress)
, Soul Pitt contributing writer and cousin of the Soul Sis, went to KDKA's site and entered a contest to go to the Grammy's on Feb 10th. Well surprise, surprise…she won! Read Murphy's story about the trip and why it meant so much to win and to take her sister Tanya (pictured in blue dress).
It is a distinct pleasure to write about my recent trip to Los Angeles, California to attend the Grammy Awards. I do not usually enter sweepstakes or contests, but I entered KDKA's Delta Grammy Sweepstakes through
kdka.com
. Well much to my surprise I won!
I received a telephone call from a CBS representative informing me that if I could verify who I was within 48 hours, I could be the potential winner of the sweepstakes. The rep informed me that they would fly me and my companion to New York City, New York where we would spend one night. The next morning we would take a charter flight from New York to Los Angeles. During the charter flight we would enjoy a concert by musical artist John Legend. This would be the first time for an in-flight musical concert for which Delta Airlines provided the state-of-the-art airplane. The winners and our companions from nineteen markets across the United States were taped during the concert. After the concert, Mr. Legend entertained our questions and gave many different interviews to the members of the media onboard. When we deplaned Mr. Legend took a photograph with the winners of the contest.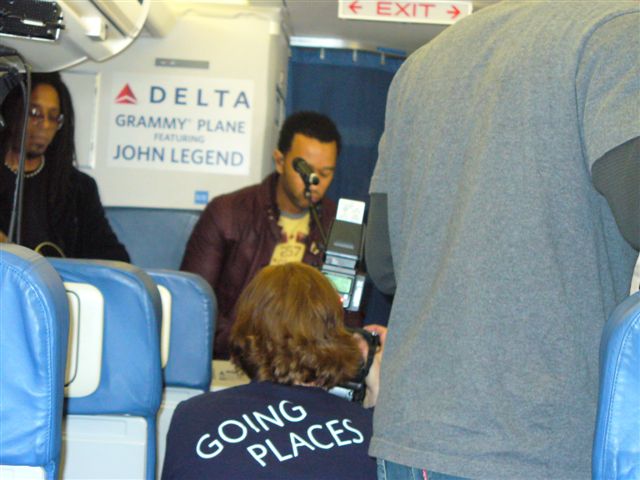 John Legend preparing to perform on the Delta's Grammy Plane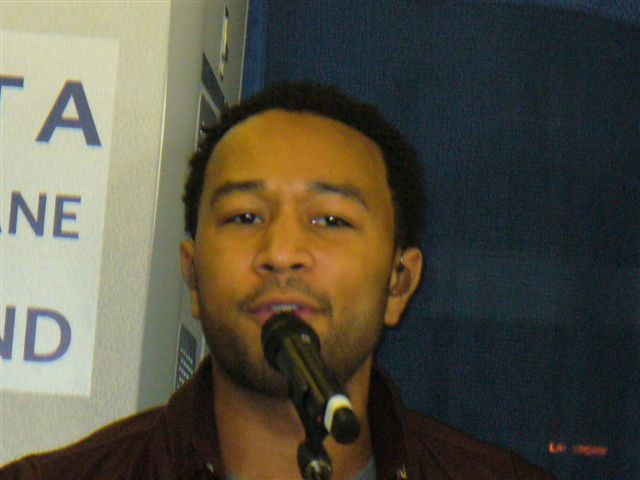 John Legend performing on the Delta's Grammy Plane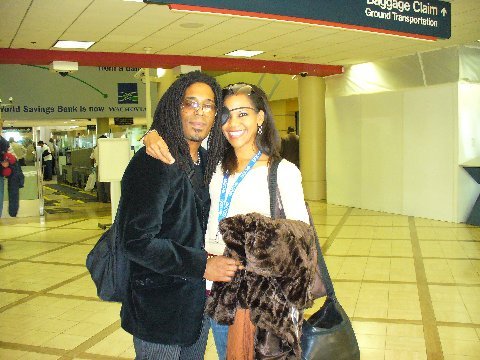 Murphy and Sharief, John Legend's guitarist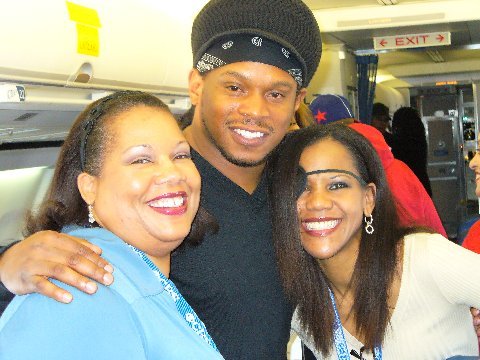 Tanya, Sway from MTV, Murphy

The next day we were permitted to attend a rehearsal for the awards. We were given a tour of the facility, which was the Staples Arena in downtown Los Angeles. We saw the media center where the awardees are interviewed after they win. After the tour, our ears were soothed by the soulful sounds of Miss Alicia Keys practicing her hit, "No One." The combination of the carefully blended orchestra, smooth voices of the background singers, passionate strings of guitarist, John Mayer and unparalleled talent of Miss Keys made an unforgettable, musically blessed balmy afternoon in southern California.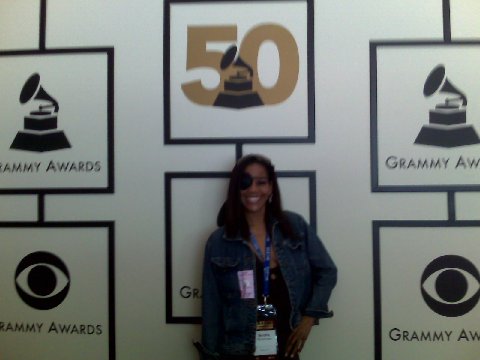 Murphy at the Grammy Media Center
The following day was ours to either tour Hollywood or have a relaxing afternoon on our own in preparation for the Grammys the next day. My companion, who is my sister and best friend, and I, chose the latter. So we got our beauty rest for the next day.
After enjoying a delicious breakfast in our hotel, we prepared to meet our group in the lobby promptly at 1:30 p.m. to ride to the Staples Arena for the 50th Annual Grammy Awards. The awards started at 5:00 p.m. We thoroughly enjoyed performances by The Time, Tina Turner and Beyonce Knowles, Herbie Hancock and so many more entertainers who were there to share their gifts. After the awards show we went to the after party and enjoyed more musical renderings. It was truly a once in a lifetime experience to cherish always. I am so grateful to CBS, KDKA, Delta and our coordinators from "Whatatrip." Pictures from the trip were limited because we were not permitted cameras in most areas.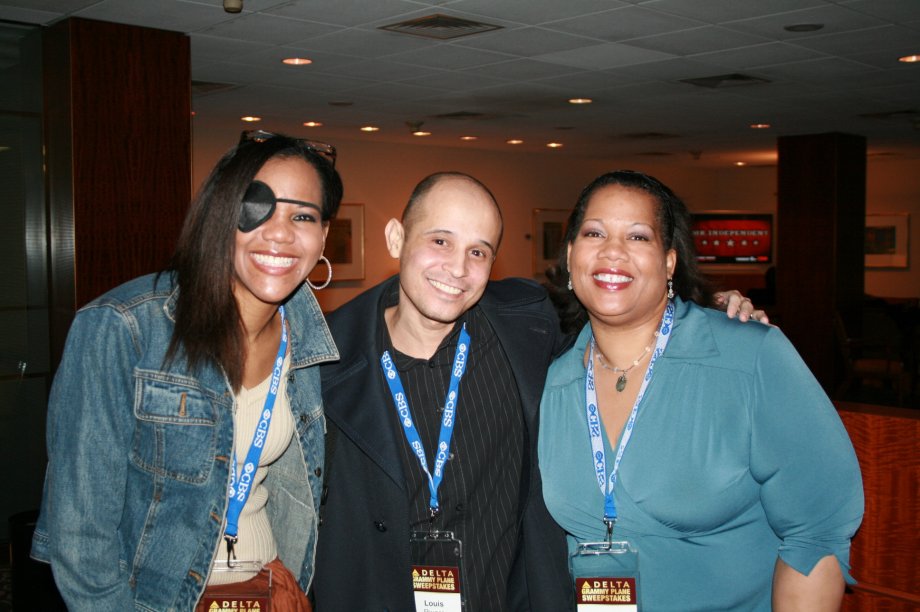 Murphy, Louis (another winner) and Tanya


This trip meant the world to me because music is such an integral part of my life. But not only that, I was able to take my sister who has done so much for me I cannot tell it all. It was good to be able to return the favor. Further, six weeks ago I was in a coma and not expected to live, let alone, go to the Grammy Awards. My sister saved my life because she found me and got the help I needed. I am so grateful to God for gifting me with my family, but especially my sister, Tanya. However your life seems, just enjoy each moment. If things are going well for you right now just thank God, be grateful and do not take one blessing for granted. If things are not going so well right now, do not lose heart! God has not forgotten you. Look for how God will work problems into peace for you, through Jesus Christ.
Respectfully submitted by Murphy J. Hickerson